Advertise on Electronics Notes
Effective, affordable, manageable and trackable advertising (banner & text) on an electronics targeted website for a fraction of the cost of other publications.
Electronics Notes offers advertisers a chance to promote their services and products to a host of people associated with electronics and radio technology with either advertising banners or AdWords text advertisements.
Affordable, manageable, trackable advertising
Advertising on Electronics Notes or our companion YouTube channel offers advertising that is particularly effective. Unlike most other electronics websites we use the Google Display Network and this provide many advantages:
Affordable: As advertising is placed via Google AdWords, you can manage the advertising to suit your budget and costs are typically well below those for direct advertising on competing sites.
Effective: By targeting the site directly, and not using just keyword targeting the results have been shown to be far better.
Manageable: Using the Google Display Network easy to use interface you can easily manage your advertising campaign.
Trackable: The Google Display Network interface provides many tools that enable you to track the performance of your advertising and see the value of your advertising.
Try advertising on Electronics Notes by targeting the site or our YouTube channel using managed placements to gain the most from your budget.
Target Electronics Notes from Google AdWords
Advertising on Electronics Notes can be either display banner advertisements, or it can use text advertisments. Both forms are enabled on the website.
Targeting a site like Electronics Notes with managed placements brings significant advantages. Selecting keywords means that your advert can appear in many places – often places you may not want.
Targeting advertisement onto Electronics Notes means that your advertising is placed exactly where you want it, and this will bring much better results.
By targeting Electronics Notes you can not only choose how much advertising you want, but you can also choose the times and locations where you want it. It is just like placing direct advertising but at a fraction of the cost.
Find out how to target Electronics Notes on Google Adwords with Managed Placements.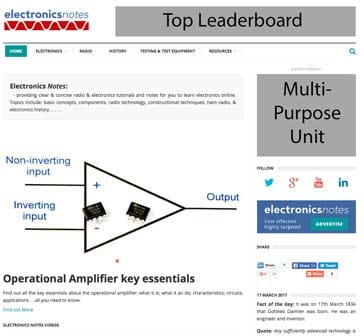 Advertising Positions
The advertising includes placements on the website in four positions:
Top leaderboard: this position provides excellent branding and visibility. Located at the top of the page it is an eye-catching position. Two sizes are available:


728x90 superbanner: This size is used for desktops, laptops and tablets.
320x50 mobile banner: This size is used for delivery to mobile devices.

Multi-Purpose Unit, MPU: The MPU is 300x250 pixels and it is ideal for delivering a variety of formats including image, text and even video. It is delivered to all formats of device.
Bottom leaderboard: Being located below the main content, readers often get to the bottom of the content and wonder what to do next. Seeing and interesting advertisement in this position often encourages them to follow the advertisement. Like the top banner, this position is available in two formats:


728x90 superbanner: This size is used for desktops, laptops and tablets.
320x50 mobile banner: This size is used for delivery to mobile devices.

Skyscraper: The skyscraper 160x600 is not available via Google AdWords at this time
Additional advertising is available via the Ad Link units as well as mobile page level advertisements.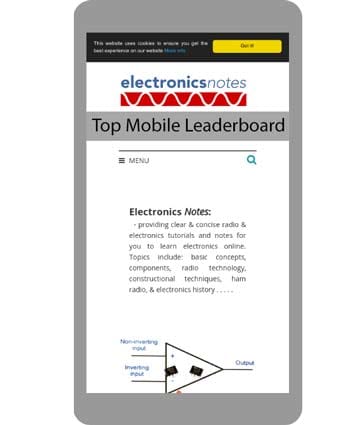 Advertising Placement
Advertising may be placed on the site by targetting the site via Google AdWords: Advertising can also be submitted via Google AdWords and targeting the Electronics Notes site. All our ad sizes are catered for by AdWords including 728x90, 320x50, 300x250 and 160x600. Advertise via Google Adwords
Find out how to target a website in the following easy to follow video:
Place your advertising now with Google Adwords now. . . It is easy, low cost and very effective.
YouTube channel links:
https://www.youtube.com/channel/UCj5v6V19CtjoeFzuiiEQpRg or
https://youtube.com/ElectronicsNotes
Please note: We do NOT accept adverts for text links designed for supposed SEO purposes.