How to Buy the Best E-Reader
When buying an e-reader it is wise to know what to look for and how to buy the best e-reader - here are our top tips.
---
E-Readers Includes:
How to buy best e-reader
---
E-readers are now commonplace, being seen in many places. They are ideal for people who enjoy reading, but do not want to carry around numbers of books and then have to recycle them when they have been read.
With e-books now much cheaper than their paper counterparts most of the time, buying e-books makes a lot of sense. Also as the prices of the e-readers themselves now at rock bottom, it is an ideal time to buy one.
However there are so many e-readers to choose from. What is the best one and what things should be looked into before buying one. How to buy the best e-reader may not be as simple as at first thought.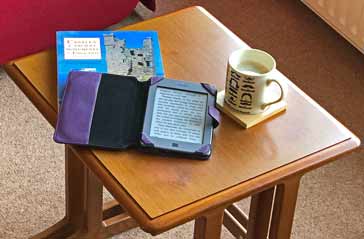 What is an E-Reader
An e-book reader, or e-reader is essentially a specialised form of tablet computer that has been cut down in complexity and hence cost to focus on reading books.
One of the key technologies used within e-readers is e-ink technology. E-Ink technology looks very much like paper itself and as it does not have the blue light contained within tablet displays, this makes it very much easier to read. Fundamentally it is a reflective technology and uses reflected light and this means that to read in the dark, a light is needed. Also being reflective, it is very much easier to read in sunlight than a normal tablet.
Also early e-ink displays were relatively slow, which was fine for e-readers, but not good for normal tablet displays.
The other advantage of e-ink displays is that they have an exceedingly low power consumption, and this means that e-readers do not need charging that often.
Points to look for when buying e-reader
There are many different points to look for when buying an e-book reader or e-reader. When buying the e-reader, it helps to narrow down the field with some essential requirements, and then often after that it can be any one of a number of minor points that help make the final decision.
Screen size: Although it is possible to obtain ebook readers, e-readers with a variety of screen sizes, six inches seems to be the standard size now. Like television screens, the size is measured diagonally across the screen. Thus a 5 inch screen is 3inches by 4 inches and rather small, but , the six inch screen is 3.54 inches by 4.72 inches.
Screen definition: The definition or clarity of the screen is important. Like other forms of display it is measured in pixels per inch. This is often measured as dpi - dots per inch and these das most screens are 300 dpi which gives crystal clear definition.
Touchscreen: With the advances in display technology, most e-readers these days have touchscreens. This makes their operation very much easier, especially when using a keypad for typing. Many of the older e-readers did not have a touchscreen typing pad and this made any entry of titles, etc. very laborious.
Backlighting: The e-ink technology used in e-readers is basically only reflective and unlike the displays used in tablets and phones it cannot be read in the dark. To overcome this issue many e-readers have backlighting. The use of the backlight will reduce the battery life considerably, but it helps if there is no other light available. Obviously the backlighting is only used when it is needed. If backlighting might be needed, be sure to check the model you are considering has it included.
Water resistance: E-readers are used everywhere. One great place to use them is on the beach or by the pool on holiday. . . but there is a real danger of them getting wet. Designers have thought about this, and many e-readers are waterproof. If there is a danger of them getting wet, then check what specification you need. Some are splash proof, whereas others can withstand a bit more.
Wi-Fi or cellular: The two options that are available for downloading books are Wi-Fi and cellular. A cellular connection enables books to be downloaded anywhere that there is mobile coverage, and although there is no subscription needed for the mobile connection it is reflected in the price when buying. The cheaper option is to just use Wi-Fi. This is often quite satisfactory as books can be downloaded at home, for example before going away. Even in many hotels and other places, Wi-Fi is available.
E-reader storage: Storage is not really a problem as the size of the books is generally quite small - most e-readers have space for a thousand or more books, and even if this is filled, the major vendors can provide cloud storage. For those interested, the typical storage available on an e-reader is upwards of 4GB, with some offering up to 32 GB. Also, with memory costs falling, memory sizes are bound to rise.
Book formats: Books available from different sources have different formats. There are many different formats, but the main ones are detailed below:


AZW: AZW an Amazon format which is used for their Kindle e-readers. AZW is based upon the MOBI format and it uses a high compression option. To broaden the sales of books from Amazon, using Kindle Apps, it is possible to open and read these files on many devices from computers to smartphones. - the required App is needed though.
LIT: This is now an obsolete format, but it is still used in a limited number of areas and therefore it is mentioned for completeness. LIT was an e-book format developed for the Microsoft based e-readers. It was used with the PocketPC and Windows Mobile devices, and can also be found on PCs and the Hanlin eReader. However, it was not widely adopted and was therefore discontinued.
PDF: The Portable Document Format is widely used for many applications and it was created by Adobe for its Acrobat products. PDF is a very popular e-book format since software support for this format exists for a lot of devices including e-readers. One drawback of using PDF for e-books and e-readers is that content in PDF is usually scaled for A4 or letter size. This becomes very difficult to read when reduced in order to fit the small screens on smartphones, or the views have to be re-sized manually.
ODF : ODF, OpenDocument Format is an XML-based file format and is the default format for OpenOffice, the open source productivity suite used by many as an alternative to Microsoft Office.
MOBI: As the name indicates, MOBI is the e-book format used by the MobiPocket Reader. MOBI was originally made for the PalmDOC and it can be opened using the MobiPocket reading software, which can be installed on many smartphones. There are limitations of the MOBI format such as the lack of ability to scale images with the font size; tables display differently on different readers, especially if the table covers more than one screen; and there is an absence of support for nested tables. Third party readers such as Stanza, FBReader, Kindle for PC and Mac, and STDU Viewer can open MOBI files.

It is obvious to say that it is necessary that any e-reader being considered will be able to handles the e-book format from your favourite supplier. But if you are using a Kindle and buying books from Amazon, there is no problem.

It is also worth mentioning that the various formats can be unprotected or protected by a digital rights management, DRM software to prevent piracy, and general unauthorised copying. This may prevent any e-reader from opening a file if it has been copied even if the format is compatible with the e-reader.
E-readers for e-books are now easy to buy and there is a good variety, although it must be said that Amazon seems to have the majority of the market, combining a wide range of their Kindle -e-book readers combined with a huge library from which to choose.
E-readers are also quite cheap and provide excellent value for money. By understanding some of the terminology and the various specifications, it is easy to select the best e-reader for your particular situation.
More Equipment, Items & Gadgets:
Wireless charging Smart speakers Bluetooth speakers USB chargers Power banks E-readers TV remotes Webcam
Return to Electronic items menu . . .