Wireless Power Bank
Wireless charging is now widely used to charge smartphones and other devices - power banks can also charge devices using wireless technology & there is a good selection of wireless power banks available.
---
Power Banks Includes:
What is a Power Bank How a power bank works How to use a power bank How to buy best power bank Wireless charging power bank
---
Wireless charging techniques like Qi are now accepted for charging smartphones and many other devices. Along with this development, it is not surprising to see that a number of power banks are now available that can charge devices wirelessly.
Wireless charging has many advantages in terms of convenience and performance and therefore it makes sense to incorporate the ability to charge devices in this way into power banks.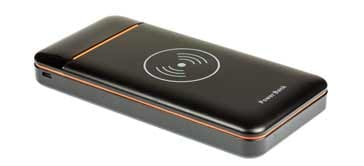 Although Qi wireless charging power banks are not as widespread as traditional power banks that use a USB wired connector, they is a good selection that is available and they can be used very conveniently.
What is wireless charging
With a host of gadgets now using wireless charging, it is helpful to understand a little about it.
Essentially a wireless charger has a coil that it uses to transfer energy from the charging pad to the item being charged. Energy is transferred inductively, and this eliminates the need for the use of connectors, improving reliability as connectors are always susceptible to damage, even though major strides forward have been made for the connectors used for items like smartphones.
The most widely used standard for wireless charging is the Qi standard - this has been adopted for all the major smartphones and gadgets.
Note on Qi Wireless Charging:
Qi, pronounced chee, has become the most widely accepted form of wireless charging. It enables a variety of electronic and electrical items including smartphones, etc to be charged quickly and easily using a wire-less connection.
Read more about Qi Wireless Charging.
Wireless chargers are relatively commonplace, and now powerbanks, which have traditionally used wired connections are now becoming available with a built in wireless charger so that they can wirelessly connect to the items they need to charge.
Wireless power bank buying guide
It always helps to have an idea of what to look for when buying a wireless charging power bank. Like any product there are a number of points to note when looking at the wireless charging power banks on offer.
Power capacity: One of the major points to note when buying a wireless power bank is to ensure that the power bank storage is sufficient to give your device a full charge. With smartphone batteries increasing in capacity to ensure that have sufficient life between charges, so too the power banks need to increase in capacity to match this.

It is no use if the wireless power bank cannot give the smartphone or other device it is charging full charge. Before buying ensure that the power bank capacity is as large, or preferably a little larger than that of the device it is intended to charge.
Charging rate: With smartphones now able to charge very quickly, it is necessary to ensure that the wireless power bank can supply the share at the rate the smartphone or other device can accept it. If not it will charge, but charging will take longer.

Remember, though, that the wireless power bank will only be able to charge as fast as the device being charged can accept it. Some adverts seem to imply that the charger will be able to charge a device much faster. This will only happen if the device can accept charge at a faster rate. If you have an older smartphone for example, it may not charge faster with the super speed wireless charge power bank. However it is often useful to have that capability in case you upgrade the smartphone or other device later.

Often the wireless charging capability cannot supply as much current as the wired connections. This means that it can take three or four hours to charge a typical smartphone wirelessly, but less if a wired connection is used. Check the specifications to see exactly what can be achieved as new devices are always being launched and these may have faster wireless charging capabilities
Added convenience: Whilst wireless charging power banks are more convenient on one way, the item under charge is normally placed on top of the power bank for charging to take place. Unlike traditional wired power banks where a lead is used, and the phone can be moved when charging is ongoing, this is not the case with wires charging - the smartphone or device must be kept int he right position. As wireless charging is often quite sensitive to position, this might be an issue. It is worth taking a view on how the wireless charging power bank will be used o see if this capability will be useful. As many wireless power banks also have a wired capability, this may not be an issue.
Size & weight: Size and weight are an important consideration when buying a power bank, especially if you are going to use it when travelling. The greater the capacity of the power bank the larger and heavier it will be. As the capacity of smartphones is increasing, and often people will want to charge several devices before recharging the power bank, the size and the weight of some power banks can be appreciable. Check how big you want to go before ordering.
Connectors for conventional charging: It is worth making sure that the power bank has connectors for conventional wired charging. As not all devices are able to charge wirelessly, it is useful to make sure the wireless charging power bank can also charge a device using wires - this is normally the case and they often have one or two USB ports for charging. This means that it is possible to charge more than one device at a time
Charging the power bank: It is worth remembering that you will need to charge the power bank itself. The larger the capacity, the longer it will take. If you only have a 1 amp charger and the power bank has a capacity of 5000 mAh, then it will take five hours to charge - well a little longer because not all the charge that enters the power bank is converted to stored charge, there is an efficiency factor of possibly 80% or more, so it will take longer. As many wireless charging power banks have greater capacity levels it can sometimes take 10 hours or more to charge them, even with a 2.4A charger.

Remember that you will need a charger for the wireless power bank and this is not normally supplied with the power bank.
Air transport: It is worth remembering that there are limitations on lithium ion batteries, which power banks use, when carrying them onto aircraft. They should always be packed in the carry-on luggage and there may also be limits on the maximum capacity of batteries that can be carried - check with your airline before travelling.
Cost: Wireless charging power banks require more electronics within them and they provide more functionality than a standard power bank. It is therefore not surprising that they are more expensive than the simpler, more traditional wired power banks. It is necessary to make a judgement call on whether the added convenience of a wireless power bank is worth the additional cost.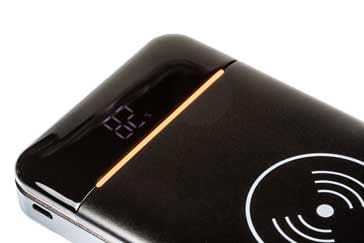 Points to note when using a wireless power bank
Although wireless charging power banks are easy to use and provide a really easy and convenient method of charging a smartphone or other electronic device, there are a few simple pointers to note.
Positioning is key: It is necessary to be very careful about the positioning of the device to be charged. If the device to be charged is not aligned sufficiently accurately then it may not charge. Normally there is an indication on the phone whether it is being charged.

Charging a smartphone using a wireless power bank

Take electronic device off charge when it is finished: Once the wirelessly charged electronic device has finished charging it should be removed. Otherwise the wireless power bank will still communicate with the electronic device and the charging circuitry will remain active. Although the current required for this is not high, it can result in using charge from the power bank, which might otherwise be used for charging. In an extreme case it might discharge the power bank.

Capacity & size typically large: Most of the wireless power banks on the market a relatively large. They need to be sufficiently large to accommodate the coupling coil, etc, and whilst doing this, the designers, typically make them quite large in terms of capacity as well. A typical wireless power bank may have a capacity of 25 000 mA hours - check whether this can be taken on board an aircraft if you are thinking of travelling with it.
As wireless charging becomes more popular, so the need for wireless charging power banks will rise. They combine the convenience of having additional power when away from mains chargers so that mobile devices like smartphones can be charged when on the move. Wireless power banks combine this with the convenience of being able to charge the device wirelessly.
More Equipment, Items & Gadgets:
Wireless charging Smart speakers Bluetooth speakers USB chargers Power banks E-readers TV remotes Webcam
Return to Electronic items menu . . .