Vodafone Mobira VT1 Talkman Vintage Mobile Phone
The Vodafone Mobira VT1 Talkman was a vintage mobile phone introduced in 1985 for the first generation mobile networks in the UK & it was one of the first mobile phones used.
---
History of Mobile Phones Includes:
Cellular telecommunications history Cell phone systems table Vintage & classic mobile phones GSM history UMTS history 5G history & timeline
---
The Mobira, later Nokia VT1 was also known as the Talkman and it was a transportable first generation mobile phone that was widely used on the UK Vodafone network.
The VT1 was one of the two main types of phone used on the very early Vodafone network just after it was launched.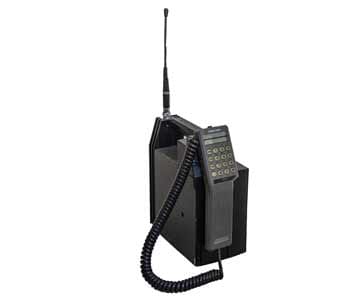 The Mobira, later Nokia, VT1 vintage mobile phone was introduced in 1985 and it was the first type of phone used to make a call over the Vodafone network in the UK.
Licences had been awarded in 1984 and the networks had been set up. Although beta tests had been carried out on the system, it was not due to go live until midnight on 1st January 1985.
It is reported that the first call made on the network after it went live was made by the son of the chairman of Racal who owned Racal Vodafone to wish his father a happy new year. It is possible that a VT1 was used for this, although it could have been the car mobile version called the VM1
Mobira
The company named Mobira Oy was set up in 1979 as a joint ventrue between Nokia and Salora. Initially the company developed mobile phones for the Nordic mobile phone system, NMT which was the first generation mobile phone system used in Nordic countries.
In 1984 Nokia purchased Salora and took compete control of Mobira and the company was absorbed into Nokia as their telecommunications division, and it was renamed Nokia-Mobira Oy.
It was not until 1989 that Nokia-Mobira was renamed Nokia Mobile Phones, dropping all reference to Mobira.
Mobira VT1 Talkman specifications
The Mobira VT1 had very few features when compared to phones, even of the GSM era. It was effectively just a phone that was mobile. However a summary of its specifications is given in the table below.
Vodafone Mobira VT1 Talkman First Generation Mobile Phone Specifications & Parameters

Parameter
Details
Date of Introduction
1985
Network technology
TACS
Cost at introduction
£1475 in UK
Mobile phone class
2
Maximum output power
4 watts
Weight
5.5 kg
Battery
2 x 6 volt gell cell batteries.
Standby time between charges
8 hours
Talk time for a fully charged battery
45 minutes
Channel spacing
25 kHz
Speech peak frequency deviation
9.5 kHz
Modulation type
Frequency modulation
First generation phone classes
The first generation vintage mobile phones were assigned classes according to their function and output power. The Mobira VT1 used for the first Vodafone call was a class 2 device.
First Generation Old Mobile Phone Class Definitions

Mobile phone type
Class
RF Power output (Watts)
Car phone
I
10
Car phone / transportable
II
4
Hand portable
III
1.6
Hand portable
IV
0.6
Phone options at the time
When Vodafone launched their mobile network, there were comparatively few options on the market. Vodafone used the Mobira VT1 transportable and the VM1 mobile phone for their network, whereas the competitive Cellnet system which launched 7 days after the Vodafone one used Motorola phones.
Although the cost of these phones was very large, the take-up surprised many people and several thousand Mobira phones were sold during the course of 1985.
The Mobira VT1 is a truly iconic or classic vintage mobile phone. Even though many thousands were sold, they rarely come onto the collectors marketplaces and when they do, they command a very good price.
More History:
Radio history timeline History of the radio Ham radio history Coherer Crystal radio Magnetic detector Spark transmitter Morse telegraph Valve / tube history PN junction diode invention Transistor Integrated circuit Quartz crystals Classic radios Mobile telecoms history Vintage mobile phones
Return to History menu . . .