Icom UK Ltd
Icom UK are the leading suppliers of Marine, Avionic, Amateur, Land Mobile, IP and LTE two way radio communication equipment in the UK and Eire.
Formed in 1974 and based in Kent, Icom UK supplies the business, maritime, aviation and Amateur radio market places with high-quality two-way radio communication products and solutions throughout the UK and Eire.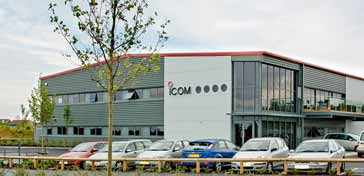 With over 50 years' experience in the design and manufacture of the most technically advanced two way radio products in the world, Icom has earned a reputation for high quality, innovation and performance.
Icom's extensive range of two way radio, navigational products and systems include: IDAS Digital Two Way Radio (NXDN/dPMR); Two Way Business Radio (PMR/ PBR); ATEX radio; LTE/PoC Radio; IP radio; Amateur radio; Receivers/Scanners; D-STAR digital Amateur radio; Marine radio; AIS Equipment; GMDSS commercial maritime radio; aviation/Airband radio; and licence free walkie talkies (PMR446).
Icom's range is available in fixed-base radio, vehicle mount radio and handheld radio formats.
So if you are looking for radio communications for your business, vessel, aircraft or hobby contact the Icom UK sales team on +44 (0) 1227 741741