Collins Radio Company
The Collins Radio Company is known across the radio industry from commercial, military & amateur circles for manufacturing & providing high quality radio communications equipment.
---
Collins Radios Includes:
Collins Radio Company Collins KWM2
Iconic radio receivers: Summary of iconic radio receivers
Radio receiver history Crystal radio sets Development of the superhet radio Radio history / timeline
---
Although the company is now known as Rockwell Collins supplies equipment and services for avionics and information technology systems to government agencies and aircraft manufacturers, the company started by producing radio equipment for a growing market.
The Collins Radio Company was always know for the high quality equipment it produced whether for commercial, military or the amateur radio / ham radio markets. In fact within the ham radio markets, the company produced some true classic vintage radios which have stood the test of time and are still sought after today even after more than 50 years since their introduction.
The founder Art Collins always wanted to produce the best, rather than cut corners for a cheaper product and accordingly it became known across the industry for high quality reliable equipment.
Who was Arthur Collins
Arthur Andrews Collins was born on 9th September 1909 in Kingfisher, Oklahoma. His father was Merle H. Collins, a mortgage banker who had an entrepreneurial spirit and his mother was Faith Andrews Collins.
When the young Collins was seven years old the family moved to Cedar Rapids, Iowa. Here his father founded a farm company that combined small inefficient farms into much larger collectives and it also introduced new concepts and practices to improve the productivity. This worked well until the great depression.
Meanwhile Arthur became interested in radio and became a radio amateur at the young age of 14 and originally gained the callsign 9CXX. Later this would become W0CXX. He became friends with another radio amateur named John Reinatz who later went on an Artic expedition as the radio operator. Interestingly Collins was able to keep in contact with Reinartz even thought he US Navy was not able to do so.
Collins became quite an expert in radio propagation, investigating propagation in the short wave bands, and particularly in the 20 metre range. He also became an expert in electronic circuit design in general and in particular in RF circuit design. He even had several articles published.
Although very intelligent, when Collins graduated from Washington High School in Cedar Rapids, Iowa, he moved to a college at Amherst in Massachusetts, but returned at the end of his first year. He never obtained a degree, but he took other courses more locally.
Nevertheless, Collins pursued his own studies and research, especially after he started his own company, and his understanding was often well ahead of that in academia.
despite his own failings in formal education, he did value it in others and supported employees who wanted to further their education. He even instigated in-house training as well.
During his career, Collins was known for his extraordinary hard work. He rarely took time off, and even when he did, he would take technical reading material which he would devour very quickly.
He was also known as a visionary and was able to predict, at least within the early days of radio, exactly what was needed. However, later some of his ideas dd not appear to be at all profitable.
Collins married Margaret Van Dyke, who died in 1955. They had two children: Susan, and Michael. Sadly Margaret died suddenly of a cerebral haemorrhage in 1955.
Two years later in 1957 he married Mary Margaret Meis, and they had two children.
Alas, on 25th September 1987, at the age of 77 Collins died. During his life, he contributed a considerable amount to the understanding of HF radio communications in particular, pushing forward the boundaries of understanding in several areas.
Beginnings of Colins Radio Company
The Collins Radio Company was founded by Art Collins along with the first employee in 1933. The first premises for the company were in the basement at The metropolitan Building, 2920 First Avenue, Cedar Rapids, Iowa, USA. These lowly premises provided just enough for Collins to start developing and making his first equipment.
One of the first successes of the company was that supplied the 1934 Byrd Antarctic Expedition with its radio communications equipment so that it could maintain contact with the outside world. Not only did this prove that Collins radio equipment worked under adverse conditions, but it was also gave the company a great propaganda boost in its early years.
During this expedition Byrd spent five winter months operating a meteorological station, Advance Base. He suffered very poor health, and it was only the unusual messages he sent by radio that alerted the outside world to his fate and enabled a successful rescue mission to be mounted.
Also at this time, Collins's father, M H Collins managed the financial side of the business and was very good at spotting sound opportunities in the marketplace. Accordingly the company was on a very sure financial footing at this time.
As the business grew, the business focussed on producing a variety of forms of radio communications equipment. The company produced a large number of broadcast transmitters. In fact the broadcast transmitter market was booming and Collins sold over a thousand of their high power transmitters.
The company they also made an entry into the market for airborne radio communications equipment.
Also as a result of Collins' interest in amateur radio, he managed to produce some very good radio communications equipment for this market as well, although it did not make much of a profit.
The war years
During the World War II, the Collins Radio Company joined the fight and produced vast volumes of equipment for the armed forces. Collins' previous experience with airborne radio equipment came in very useful.
The Collins Radio Company produced equipment for the armed forces virtually exclusively as the demand soared.
In 1940 the company employed around 150 employees and it moved to 855, 35th Street, Cedar Rapids to give additional space for the increased production.
One of their major products during the war years were high power transmitters for aircraft, of which the ART-13 equipped with automatic tuning circuits, was one of the most widely produced as it represented major step forward in airborne radio communications for the time.
Another famous product from the Collins Radio Company was the TCS radio equipment used within military vehicles.
Collins after the war
After the war, the requirement for military equipment fell considerably, although with the cold war starting, military spending continued and the need for equipment remained.
The Collins Radio Company continued to produce a variety of AM and FM broadcast radio transmitters. Although the market became fiercely competitive in the 1960s and 1970s, Collins managed to keep their production going, although the transmitter range was sold to Continental Electronics who produced the transmitters under their own name until the 1980s.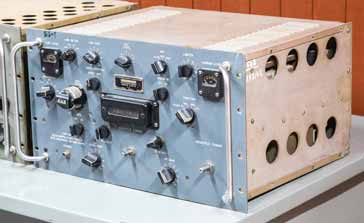 The company still continued to design and manufacture general radio communications equipment with radios like the 51J and others. They also developed the mechanical filter which enabled very high levels of selectivity to be achieved.
Fortunately many new markets were opening up and Collins was able to gain a significant foothold in them. Some of the areas they addressed included flight-control instruments, general radio communication devices, and satellite voice transmissions.
In fact Collins produced equipment for the Mercury, Gemini and Apollo US space projects. The equipment they produced included the radio communications systems for the astronauts to communicate with the Earth stations as well as equipment to track and communicate with the space craft.
Then in 1973, Collins provided the equipment for the U.S. Skylab program for radio communication from the astronauts to earth.
Collins ham radio equipment
With Collins' interest in amateur radio, he continued to price equipment for this market after the war, introducing some leading transmitters and receivers that far out-performed those from other companies.
In 1946 he introduced the 75A amateur radio band receiver which used a crystal controlled first oscillator and permeability tuned second oscillator. This produced a level of stability that had not been experienced before in amateur radio equipment. A companion transmitter was also produced. These lines evolved with time giving improved performance with each evolution.
A much smaller Collins "S" line was introduced consisting of the 75S receiver and the 32S transmitter and 30L linear.
A development of the S line was the KWM transceiver. Initially released as the KWM-1 in 1957, it was later updated to the KWM-2 in 1959. Although not cheap, and out of the reach of many radio amateurs, this set the standard for amateur radio equipment for many years to come and became a classic vintage radio.
Major changes at Collins
When Art Collins father died, a major guiding influence was removed from Collins Radio, and it appeared that increasingly the market changed and profitable areas were more difficult to find.
Finally, on the point of near bankruptcy, Rockwell International took the company over in 1971. A year later in 1972, Art Collins left the company he had founded, but set up his own consultancy business A. Collins Consultancy Inc..
The new merged company was known as Rockwell Collins and it continued with high value radio communications equipment for the military, commercial and avionics sectors. This company was spun off from Rockwell International in 2001.
Then in 2017 United Technologies of Farmington Conn, USA agreed to acquire Rockwell Collins with the deal being closed in late 2018
Collins Radio was at the forefront of radio communications technology for many years. During its history, it created many classic vintage radios of all forms. The company produced many innovative and world leading ideas and equipment and rightly it is held in high esteem for what it achieved which was quite considerable.
Today Rockwell Collins is still a major force in the radio communications industry.
More History:
Radio history timeline History of the radio Ham radio history Coherer Crystal radio Magnetic detector Spark transmitter Morse telegraph Valve / tube history PN junction diode invention Transistor Integrated circuit Quartz crystals Classic radios Mobile telecoms history Vintage mobile phones
Return to History menu . . .