What is DECT? cordless phone technology
DECT - Digital Enhanced Cordless Telecommunications is an almost universal standard for cordless telephones.
---
DECT cordless telephones includes:
DECT basics DECT standard DECT RF interface / physical layer DECT channels & bands DECT security Cordless phone buying guide
---
DECT (Digital Enhanced Cordless Telecommunications) technology is widely used for residential, and business cordless phone communications. Designed for short-range use as an access mechanism to the main networks, DECT technology offers cordless voice, fax, data and multimedia communications, wireless local area networks and wireless PBX.
With the flexibility offered by cordless phone communications, DECT technology has become the major standard for this application and DECT is now in use in over 100 countries worldwide.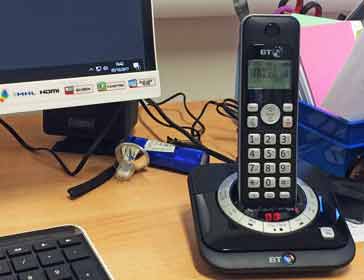 DECT technology development
The standard for DECT or Digital Enhanced Telecommunications system was developed by members of the European Telecommunications Standards Institute (ETSI). The first release of the standard was available in 1992 after which much of the work was focussed on inter-working protocols (DECT / GSM, DECT/ISDN, etc.).
The work for this was undertaken between about 1987 up until the standard was published in 1992. The first DECT standards were the ETS 300-175 series.
The name for DECT has undergone several changes. Initially at the launch of the work by CEPT (The European organisation developing the standard) it was named "Digital European Cordless Telephone", but later it was changed to "Digital European Cordless Telecommunications."
Later in 1995 the name was changed yet again to reflect its growing international adoption and it was called "Digital Enhanced Cordless Telecommunications.".
Development of DECT has moved on to keep pace with requirements. In 2007 a new standard called New Generation DECT: NG-DECT was launched. This was developed by ETSI with input from the Home Gateway Initiative. The new DECT standard was marketed under the CAT-iq trademark and certification program. There are also CAT-iq wideband voice profiles 1.0 and 2.0/2.1 which are based on relevant parts of the ETSI TS 102 527 standard.
The next major update was DECT Ultra Low Energy, DECT ULE. This was was announced in January 2011. The standard was created to enable battery powered home automation, security, healthcare and energy monitoring applications to use the technology.
What is DECT?
Although DECT was originally intended for fast roaming between networked base stations, it is most widely used as a simple cordless phone system to connect phones to a base station or base point and enable roaming within the home, office, etc.
The DECT standard provides the capability to
The DECT standard utilises a common interoperability profile for simple telephone capabilities. This is called GAP, Generic Access Profile, which most manufacturers implement. The GAP profile ensures interoperability of equipment from different providers for voice applications. The GAP defines the minimum interoperability requirements including mobility management and security features. It has different requirements on public and private systems. This means that the GAP is effectively the industry standard for a basic fall-back speech service with mobility management. This basic service is not always used, but instead it forms the fallback that is always be available, especially when requested by a roaming phone, etc..
Buying a DECT cordless phone
Knowing what to loo for in a DECT cordless phone can be difficult. There are many differnet facilities as well as performance specifications.
Knowing whaich are important and how to select the right phone may not always be easy.
DECT Glossary
Glossary of DECT Terminology
Acronym
Details
DECT
Digital Enhanced Cordless Telecommunications
DMAP
DECT Multimedia Access Profile
DPRS
DECT Packet Radio Service
FP
Fixed Part - the base station
GAP
Generic Access Profile
GSM
Global System for Mobile telecommunications
IMT-2000
International Mobile Telecommunications 2000
PP
Portable Part - the handset
RES
Radio Equipment Systems
DECT technology is widely used, and as the standard continues to move forwards it is able to meet the new demands and enable the DECT standard to remain relevant.
Wireless & Wired Connectivity Topics:
Mobile Communications basics 2G GSM 3G UMTS 4G LTE 5G Wi-Fi Bluetooth IEEE 802.15.4 DECT cordless phones Networking fundamentals What is the Cloud Ethernet Serial data USB LoRa VoIP SDN NFV SD-WAN
Return to Wireless & Wired Connectivity