HDMI Versions: 1.1, 1.2, 1.3, 1.4, 2, 2.1 - differences & compatibility
HDMI has been updated since its first introduction with several versions now released since its initial launch.
---
HDMI Technology Includes:
HDMI - the basics HDMI versions HDMI connectors Pinout / pin connections HDMI cables USB C to HDMI
---
HDMI has been existence since 2002 and since then many advances have been made in the field of audio visual data capabilities. Video formats have advanced and the data rates have increased significantly. Also many new facilities and capabilities need to be controlled.
To keep up with these advancements several HDMI versions have been launched. These HDMI versions have been progressively launched and have enabled the HDMI interface to keep pace with technology, ensuring that HDMI is relevant and up to date.
One major advantage of the way that HDMI has advanced through successive versions is that the same 19 pin connector has been used and the versions have been backwards compatible.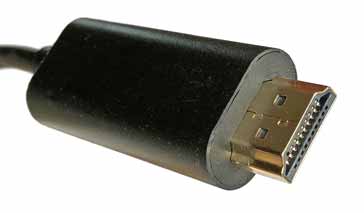 HDMI Version 1
HDMI Version was the first incarnation of HDMI and it underwent a number of revisions and updates.
HDMI Version 1.0: As the name indicates, HDMI 1.0 was the first version of HDMI that was released. The release date was 9 December 2002, and it included the basic HDMI capabilities for a single cable digital audio/video connector interface. The format for HDMI Version 1.0 used the basic DVI concept but requiring audio and other ancillary data to be sent during the blanking intervals of the video stream. The version allowed for a maximum data rate of 4.95 Gbps per link.
HDMI Version 1.1: HDMI 1.1 was released on 20 May 2004 and its main feature was that it added support for DVD-Audio.
HDMI Version 1.2: HDMI 1.1 was released on 8 August 2005 and it broadened the appeal of HDMI. It added the option for One Bit Audio used on audio CDs and it removed the need that only explicitly stated formats could be used and added the ability for manufacturers to create vendor-specific formats
HDMI Version 1.2a : The release data for this small update was 14 December 2005 and it added the provision for Consumer Electronic Control (CEC) features, command sets and CEC compliance tests.
HDMI Version 1.3: HDMI 1.3 was released on June 22, 2006, and increased the maximum TMDS clock to 340 MHz providing a total maximum data rate of 10.2 Gbps. Like previous versions, HDMI Version 1.3 used 8b/10b encoding, to give it a maximum video bandwidth of 8.16 Gbit/s.
HDMI Version 1.3a: This was a relatively minor update as indicated by the version number. It basically added a number of cable electrical updates to ensure that the cables operated totally reliably with the increased data speeds. It also added the optional ability to stream SACD in its bitstream DST format rather than uncompressed raw DSD.
HDMI Version 1.4: This standard update was released on 28 May 2009 and HDMI 1.4 proved to be one of the major updates in terms of usability. HDMI 1.4 added support for 4096×2160 at 24 Hz, 3840×2160 at 24, 25, and 30 Hz, and 1920×1080 at 120 Hz. HDMI 1.4 also added an HDMI Ethernet Channel (HEC) to accommodate a 100 Mbit/s Ethernet connection between the two HDMI connected devices to enable an Internet sharing connection. It also introduced an audio return channel, 3D Over HDMI, and a new Micro HDMI Connector which was needed to equipment like camcorders that could not accommodate a large HDMI connector, but needed to interface with HDMI based equipment. HDMI 1.4 also provided for additional colours support.
HDMI Version 1.4a: HDMI 1.4a was a relatively minor version update that was released on 4 March 2010. It focussed in improvements to 3D video technology and was delayed from being incorporated into HDMI 1.4 pending decisions that needed to be made by the broadcast industry.
HDMI Version 1.4b: This version of HDMI 1.4 was released on 11 October 2011 and it included a number of minor changes. It was the last update provided by HDMI Licensing, LLC as future updates were taken over by the HDMI Forum, an industry body.
HDMI Version 2
HDMI 2 was the first update to be managed by the new HDMI Forum. In view of the fact that it was being managed by a different body, the version number was raised from 1 to 2 reflecting the major change.
HDMI Version 2.0: HDMI 2 was released on 4 September 2013 and it was also referred to as HDMI UHD. The bandwidth was increased to 18 Gbps. It used 8b/10b encoding . HDMI 2.0 was suitable for UHD video at 60 Hz with 24 bit/px colour depth.
HDMI Version 2.a : This minor update to HDMI 2.0 was released on 8 April 2015 and provided support for High Dynamic Range video with static metadata.
HDMI Version 2.b : HDMI 2.0b added support for HDR video as described in CTA-861.G specification. This extended the static metadata signalling to include Hybrid Log-Gamma
HDMI Version 2.1: This was launched on 28 November 2017 and added support for higher resolutions and refresh rates, including UHD 120 Hz and 8K 120 Hz. HDMI 2.1 also introduced a new HDMI cable category called 48G. This enabled cables to be certified to carry the new higher data rates.
HDMI is a standard that is evolving to meet the ever advancing needs of the audio / video industry. Since its first inception as HDMI Version 1.0, HDMI has advanced in terms of its support and capability. Now it is able to support the latest video standards whilst also incorporating many new functions and capabilities.
---
More Audio Video Topics:
HDMI SCART Loudspeaker Microphones VHF FM radio RDS data Digital radio DVB television
Return to Audio / Video menu . . .
---