PXI History & Timeline
History of PXI with a timeline describing how, when and why PXI was developed..
---
PXI tutorial includes:
What is PXI? PXI standard PXI chassis PXI bus and backplane PXI controller PXI cards & modules PXI software PXI Express PXImc MultiComputing Set-up & build PXI system
---
PXI was developed in the 1990s, and the PXI history shows how it came by people thinking how to resolve a problem, rather than just utilising what was available.
PXI was developed by National Instruments, NI, but was opened out to enable it to become a true industry standard system.
Today PXI is widely used across the industry - it is able to provide high degrees of capability, and to keep up with the requirements of new technology, PXI has continually developed, introducing new concepts including PXI Express, PXImc and the like.
Initial PXI history: beginnings
The PXI history shows that the initial ideas and thoughts about PXI came from National Instruments.
In the mid-90s, National Instruments held its annual internal sales conference every winter in downtown Austin, Texas.
NI CEO, Dr. Truchard, often affectionately called Dr. T., Ron Wolfe, and Carsten Thomsen, the then VP or R&D were brainstorming - over a round of beer - a solution that could take the benefits customers achieved from using PC data acquisition products of National Instruments and port those functions to the VXI platform that the company was heavily involved in.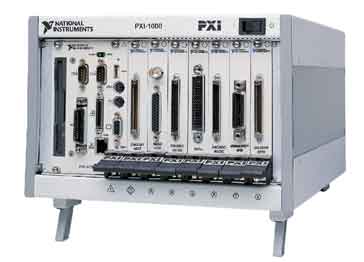 Many ideas and "what if" scenarios were discussed. The then recent announcement of CompactPCI by PICMG came up in conversation and the "aha" moment occurred as they realized the following: Rather than converting everything over to VXI, it'd be a lot easier to take the instrumentation extensions and openness of VXI and bring that to PC technology rather than the other way around.
And they did just that. NI assembled a team of experts to develop specifications for this new test platform that would bring PC technology to test systems, providing increased flexibility and better performance all while reducing capital size and cost. Additionally, the team reached out to other vendors and experts during this time to help organize and operate the PXI Systems Alliance (PXISA) consortium to ensure multi-vendor involvement for this new, open standard.
Nine months later, NI announced the PXI standard at an NIWeek press conference (August 1997). The announcement showcased the first PXI chassis, the PXI-1000 eight-slot chassis, and the first five PXI instruments that consisted of digital I/O, two variants of multifunction I/O (DAQ), image acquisition, and GPIB.
While it appears NI developed a completely new test platform in nine months, it had eight years of experience working with both an open, interoperable standard driven by a consortium (VXI) as well as the experience from its PC-based instrumentation business. Unlike other test vendors at the time, NI built and sold PC DAQ cards, which provided insight into the technological advancements coming by way of the PC. NI leaders saw the impact and possibility of the disruption and understood how the software-defined approach of PXI hardware could provide a beneficial and profitable alternative to traditional instrumentation.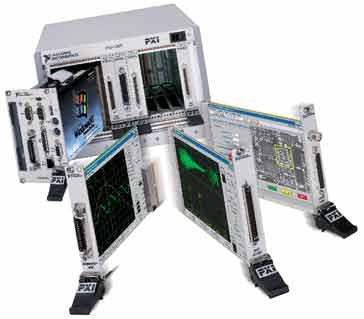 PXISA
In order to develop the PXI concept to its full potential, National Instruments decided to make PXI an open standard. At the same time as the original PXI standard release at their 1997 NIWeek, National Instruments announced the creation of an industry consortium, the PXI Systems Alliance (PXISA), with other vendors featured and present at the conference such as GenRad and PXIT, demonstrating that PXI was defined to be an open, industry standard for test applications.
Introduction of PXI Express
Another major milestone in the history of PXI was the development of PXI Express. With the successful introduction of PXI, it needed to make sure that it kept pace with technology.
The PCI standard, upon which PXI was based had been in use for a number of years. It's performance was enhanced by the introduction of PCI Express, PCIe in 2003 with the release of PCIe 1.0a. This was later upgraded to PCIe 1.1 in 2005 and then PCIe 2.0 in 2007.
The introduction of PCI Express gave the opportunity for PXI to be upgraded as well. As a result the PXI standard employing PCI Express was named PXI Express, PXIe and this was launched in 2005.
PXImc introduction
The introduction of PXImc - PXI multi-computing formed another major stage in the PXI history.
The use of PXImc provided the ability to connect multiple intelligent devices over cabled PCI Express. With high levels of data requiring processing at various points, this provided an ideal platform for applications, for example, using Big Data.
PXI-8, PXI MultiComputing Software Specification Rev. 1.0 was released 16th Sept 2009 by the PXI Systems Alliance.
PXI Timeline
The table below gives a timeline summary of some of the salient dates within the PXI history.
PXI Timeline

Date
Timeline development
1992
PCI Introduced (PCI 1.0)
1996
Formulation of the basic PXI concept
August 1997
First standard launched
1997
First five products announced
1997
PXISA founded
March 1998
15 companies endorse the open PXI specification in a press release.
August 1998
Over 40 companies had become members of the PXISA.
2005
PXI Express launched
Sept 2009
First release of the PXImc standard.
More Test Topics:
Data network analyzer Digital Multimeter Frequency counter Oscilloscope Signal generators Spectrum analyzer LCR meter Dip meter, GDO Logic analyzer RF power meter RF signal generator Logic probe PAT testing & testers Time domain reflectometer Vector network analyzer PXI GPIB Boundary scan / JTAG Data acquisition
Return to Test menu . . .