Operational Amplifier Circuits & Applications
The are very many op amp circuits which can be used and designed, the applications include everything from amplifiers to filters and integrators to astables and multivibrators.
---
Op-amp Circuits Include:
Introduction Circuits summary Inverting amplifier Summing amplifier Non-inverting amplifier Inverting vs non-inverting circuits Variable gain amplifier High pass active filter Low pass active filter Bandpass filter Notch filter Comparator Schmitt trigger Multivibrator Bistable Integrator Differentiator Wien bridge oscillator Phase shift oscillator
---
Operational amplifiers are particularly versatile circuit blocks. They find applications in a host of different circuits where their attributes of high gain, high input impedance low output impedance and a differential input enable them to provide a high performance circuit with a minimum of components.
By using negative, and sometimes positive feedback around the op amp chip they can be used in many applications and circuits to provide a variety of different functions from amplifiers and filters to oscillators, integrators and many other functions.
There are many op amp circuits that cover most of the main analogue functions that are needed. As a result of this, operational amplifiers have become the workhorse of the analogue electronics designer.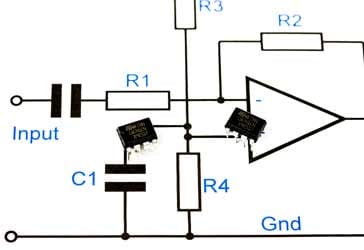 Op-amp circuits
Operational amplifiers can be used in a host of different circuits and applications. Being an almost perfect differential amplifier, certainly as far as is needed for most applications, their high input impedance, high gain and differential input makes them an ideal circuit block.
Operational amplifiers are an ideal circuit building block for analogue developers. These integrated circuits combine the sufficiently close both e ideal amplifier for most applications that they can be sued to enable high performance circuits to be designed and implemented with a minimum of components.
As operational amplifiers are widely available in many forms, some as general purpose op amps, but others providing high bandwidth, high input impedance or low offsets, etc, as well as them being available in many packages, often with more than one op amp in a package, these chips are ideal for use in many analogue circuits for many applications.
More Circuits & Circuit Design:
Op Amp basics Op Amp circuits Power supply circuits Transistor design Transistor Darlington Transistor circuits FET circuits Circuit symbols
Return to Circuit Design menu . . .