Types of Capacitors: An Essential Overview
Learn about the different types of capacitors and their uses in electronics, discovering the best capacitor type for your circuit design.
---
Capacitor Tutorial Includes:
Capacitor uses Capacitor types Electrolytic capacitor Ceramic capacitor Ceramic vs electrolytic Tantalum capacitor Film capacitors Silver mica capacitor Super capacitor Surface mount capacitors Specifications & parameters How to buy capacitors - hints & tips Capacitor codes & markings Conversion table
---
Capacitors are used in virtually every electronic circuit that is built today. Capacitors are manufactured in their millions each day, but there are several different types of capacitor that are available.
Each type of capacitor has its own advantages and disadvantages can be used in different applications - different sorts of electronic circuit design: general analogue design, RF design, digital circuits, etc.
Accordingly it is necessary to know a little about each capacitor type so that the correct one can be chosen for any given use, application, electronic circuit design, etc.
There are many variations including whether the capacitor is fixed or variable, whether it is leaded or uses surface mount technology, and of course the dielectric: aluminium electrolytic, tantalum, ceramic, plastic film, paper and more.
Video: Understanding the differnet types of capacitor and their propertiesw
It is important to not only determine the right capacitor value, but also which capacitor type is appropriate for the particular circuit design. Each type has its own properties and some may be appropriate for low frequency circuit designs, others for power supplies and some for RF designs. Selecting the right type is crucial.
Polar & non-polar types
One of the main distinctions between various types of capacitor is whether they are polarised or not.
Essentially a polarised capacitor is one that must be run with the voltage across it in a certain polarity.
Some of the more popular types of polarised capacitor include the aluminium electrolytic and tantalums.
These electronic components are marked to indicate the positive or negative terminal and they should only be operated with a voltage bias in this direction - reverse bias can damage or destroy them. As capacitors perform many tasks like coupling and decoupling, there will be a permanent DC voltage across them, and they will pass only any AC components.
The other form of capacitor is a non-polarised or non-polar capacitor. This type of capacitor has no polarity requirement and it can be connected either way in a circuit design. Ceramic, plastic film, silver mica and a number of other capacitors are non-polar or non-polarised capacitors.
Variable & fixed capacitors
Another type distinction for capacitors is whether they are fixed or variable.
The greatest majority of capacitors by far are fixed capacitors, i.e. they do not have any adjustment. However in some instances it may be necessary to have an adjustable or variable capacitor where the value of the capacitor may need to be varied. Typically these capacitors are relatively low in value, sometimes having maximum values up to 1000pF. The uses for these tend to be in RF designs.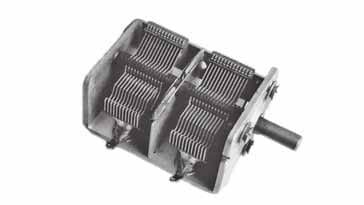 Variable capacitors may also be classified as variable and preset. The main variable ones may be adjusted by a control knob and may be used for tuning a radio, etc.
Preset variable capacitors normally have a screw adjustment and are intended to be adjusted during setup, calibration and test, etc. They are not intended to be adjusted in normal use.
Fixed capacitor types
There are very many different fixed value capacitor types that can be bought and used in electronic circuit designs.
These capacitors are generally categorised by the dielectric that is used within the capacitor as this governs the major properties: electrolytic, ceramic, silver mica, metallised plastic film and a number of others.
While the list below gives some of the major capacitor types, not all can be listed and described and there are some less well used or less common types that can be seen. However it does include most of the major capacitor types.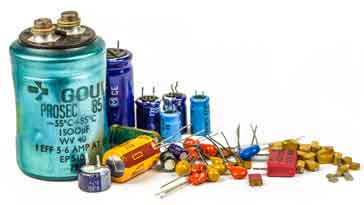 Leaded and surface mount capacitor types
Capacitors are available as leaded varieties and surface mount capacitors. Virtually all types of capacitor are available as leaded versions: electrolytic, ceramic, supercapacitors, plastic film, silver mica, glass and other specialist types.
SMD capacitors are a little more limited. The SMD capacitors must be able to withstand the temperatures used in the soldering process.
As the capacitor has no leads and also as a result of the soldering processes used, SMD components including capacitors are exposed to the full temperature rise of the solder itself. As a result, not all varieties are available as SMD capacitors.
The main surface mount capacitor types include: ceramic, tantalum, and electrolytic. All of these have been developed to withstand the very high temperatures that are experience during the soldering processes used for surface mount printed circuit boards.
Capacitor types overview
Different dielectrics, capacitor construction and the like mean that different types of capacitor are likely to have different value ranges for which capacitors of that sort are available.
the table below aims to summarise the expected ranges for different types of capacitor.
It can be seen from even the selection of the most commonly used types of capacitor, that many forms are available. Each has its own advantages and disadvantages, and if the right one is chosen for each job, then it can perform very well in a circuit. It is for this reason when building circuits that it is important to use the right type of capacitor. If the wrong sort is used, then its performance many not be to the standard needed for the circuit.
More Electronic Components:
Batteries Capacitors Connectors Diodes FET Inductors Memory types Phototransistor Quartz crystals Relays Resistors RF connectors Switches Surface mount technology Thyristor Transformers Transistor Unijunction Valves / Tubes
Return to Components menu . . .